Oprah Winfrey can be any example of a Hollywood weight loss. First of all, because she is among the richest women and is world-renowned with the ability to use any method, the TV presenter has "discovered" lasting healthy weight loss like most people – after a long struggle with extra pounds.
And secondly, her example is strong in something very important in weight loss – the need to get a clear picture of what leads him to overweight.
This motivation is very important for giving up the harmful habits that lead us to overweight. If we do not remove them or if we go back to them, there is simply no point in talking about lasting healthy weight loss.
At different times, the weight of Oprah ranged upwards and downwards between 57 and 107 kilograms, using different diets, including half-headed. She lost weight, then lost weight. She even continued to gain weight in her busy everyday life – her work swallowed time from 6am to 10pm.
For this long fight overweight Oprah tells in the preface of the book by Bob Greene "The Best Life Diet". It was Bob Greene who helped her get to the "insight" about healthy weight loss – with thoughtful physical activity coupled with balanced and rhythmic eating. Simply – whatever you take, you spend it.
Changing habits, Oprah started training, stopped eating after 19.30, removed unhealthy food, her portions became smaller, even made a garden of tomatoes, carrots, green beans, cabbage.
Above all, however, one must take stock of it – Oprah herself emphasizes this. For herself she found that food did not bring her as much pleasure as "killing the nerves".
Problems may be heterogeneous – from the tension in the work to a received phone call that was not wanted – one can "hide" in "burying" food. But with such a delusion, one is also "hiding" from the weakening.
Losing weight in Hollywood means daily rhythm
In order to achieve this type of weight loss, a particular diet regimen must be taken in conjunction with physical activity. This is related to the dropping of some harmful habits and the creation of useful habits.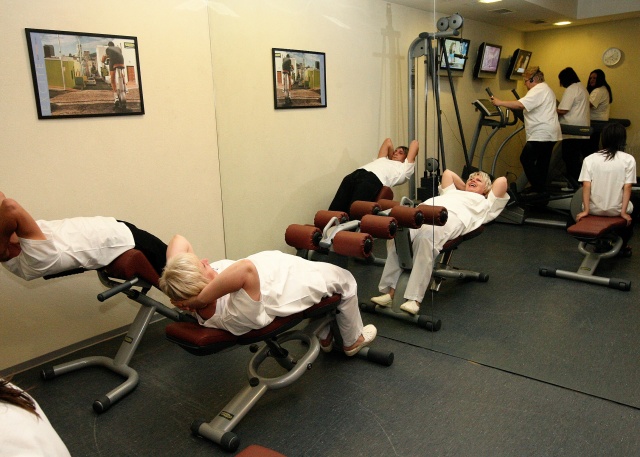 In practice, there is a change in lifestyle. Usually people are not sure exactly how to make this change and what model to build. Partial changes are often made.
During the warm season, let's say, it's massive on fruits and vegetables, and the movement is growing. Which, of course, is natural in the summer. But in the autumn or in the winter, it goes away, and if some weight loss is achieved, it does not last.
There is no weighting in weight loss, and everything is in the right amount. The food should be varied in order for the body to receive all the necessary substances. He, by the way, needs a certain step even from "terrible" fats – they are very important for brain activity.
Physical activity should also be in well-judged forms and degrees – gender, age, health, opportunities. Separately, this activity must also be consistent with the diet – consuming more energy than the diet, in order to lose weight.
These difficulties are at the beginning – get an optimal model, one is easy to learn to follow and can achieve rapid and lasting weight loss. Which is lasting because it will be able to support it.
That's why it's good to start off and look for specialists. At LuckyFit in Bansko, for example, under medical control in a healthy way, it can take up to 6% of the weight for only a week and up to 8% for two weeks. In addition, every participant in the programs of this specialized clinic receives a long-term personal plan for nutrition and physical activity.
With the right natural weight loss for a year, up to 30% of the weight can be removed and the desired kilograms are maintained.
Breakfast in the morning – Pros and Cons
A lot of people do not have breakfast – they drink a coffee in a hurry and go to work. So, referring to healthy eating and healthy weight loss, should be clarified – with or without breakfast in the morning?
Looking for a person's information, he gets a variety of comments about the morning breakfast – from being very important and having to be rich to a complete denial of her meaning.
Healthy eating and weight loss specialists have no hesitation – breakfast is part of the daily rhythm. What's more, it is also recommended to eat an apple or other fruit in the middle of the afternoon and afternoon.
Morning breakfast should not be abundant and should include light foods – fruits, vegetables, honey, yoghurt or fresh milk, cottage cheese, cheese. Twenty minutes before breakfast you can have a glass of fruit juice – fruit or vegetable, herbal tea or just a glass of warm water.
Breakfast should not include pastries, fat or fried foods. In this part of the day, the organism has not yet set up a regime for such digestion. And if we get him to "switch gears," except that the food we eat will not be useful, it's no wonder we'll just get sick just by going to work.
Breakfast in the morning should be at least half an hour after getting up, with an optimal time between 7 and 9 hours – this corresponds to the biological rhythm of the body.
Healthy regimes do not rule out coffee as long as there is no addiction and a lot of sugar with it. Caffeine in coffee affects the nervous system and makes us more active in burning calories.
In addition, caffeine stimulates a process in the body that breaks down the lipids stored in the fat cells. In addition, coffee helps metabolism because it acts as a diuretic, causing more urine output.
Traps before the Hollywood styled weight loss
When healthy eating becomes a habit, momentary deviations will not be a problem because it will be safe to return to rational rhythm. Previously, however, when the regime is not yet established, there are a number of things and situations that are "explosive" for weight loss.
While in the initial stage, people are, for example, well advised to find an appropriate way to divert guest invitations in the evening.
Walking in the evening suggests "heavy moods" just when the slimming person should not eat plenty. At first, guests may not resist the temptations and the regime collapses not just for tonight. Secondly, if it resists, the refusal of the dishes may be more offensive to the hosts than if the visit has been evaded reasonably.
It is good for others at home, if they are not on a diet, to take care of the one who is weakening. And do not try it with chocolates, sweets, pastas, pizzas and everything else that can be bought or ordered, and it's bad for it.
When it comes to testing – people in a weight-loss regime should pay special attention to their problematic relationships and to the irritants that "walk on their nerves". These problems either have to be resolved or ignored because nervousness often drives people to food.
Nor should you be slapped on minute-long schedules. Our daily lives are busy and dynamic, and we may have more calories and a person feeling hungry in the early afternoon. There is no problem eating your mid-morning breakfast earlier than usual. And vice versa – if it's not hungry, let it go.
The diet itself is also important. It should not be by the way – by the newspaper or the TV, for example, because the measure is easily lost. Every bite should chew well, "feel". Then the brain will understand in time, and say when to stop eating.
A few tricks that help for a lasting and environmentally friendly weight loss
When it comes to healthy weight loss, many people are justified – especially in front of themselves that they have a desire but have no time.
Their day was so busy that in order to succeed with everything, they had to drive only by car; they did not have time to shop around to pick food or visit the gym, and so on.
In fact, it is not at all complicated to incorporate the principles of weight loss into the busiest daily routine. In every supermarket, and in smaller stores, a variety of healthy foods are available.
So if there is any requirement here, it is not the circumnavigation, but learn how to rely on the labels to choose the calories for the menu.
As for traffic, no one is working 24 hours a day. And when he "disbandes" instead of sitting at a table in the pub or at home, or say a TV show on a TV show, he can make fresh walks in the park.
For more intense workloads there is also an easy, time-consuming solution. You can buy at home various gym equipment – dumbbells, springs, etc., or even a fitness gear.
There are also very small and easy tricks that support the idea of losing weight. For example, walking can be stopped when "a window for eating in a fast food" opens.
One can bring a healthy food from home. Shopping on a weekend, doing his menu and following him during the week. A roasted chicken can be divided into portions, the garnish is more than easy.
It's easy to wear fruit – just two snacks for a snack is doing a great job. In this sense, the fruits and vegetables at home can become part of the interior – to be in a prominent place and to be at hand, for example, if "something gets caught up in our nerves" and we want to eat.