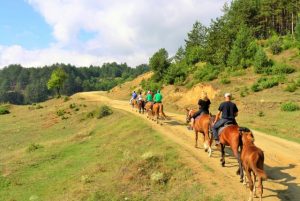 This is a programme for everyone who wants to reduce and maintain their weight and change their lifestyle.
It is suitable for all ages, and people under 18 years old can join the programme with a companion.
It is necessary that all participants are in good condition and without serious health problems.
An overall assessment of the body – impedance with professional apparatus "Tanita" upon arrival and before departure.
Initial medical examination in the early days of the programme – measuring blood pressure, pulse and blood sugar and a conversation with a doctor about anything that bothers you regarding your health
Perform a specialized ultrasound examination of the heart, cardiogram and consultation with an experienced cardiologist
4 meals a day with LuckyFit's healthy menu with the option to comply with a specific diet (vegetarianism, veganism, etc.), upon request
Medical control
Daily intake of alive and energized water and zeolite
Daily guided hikes in the mountains
Daily afternoon and evening activities with an instructor
Daily gymnastics, excluding days of full-day excursions
Daily washing of the clothes used in hiking and the activities in the hotel
Day trip – once a week
Horseback riding in the mountains – once a week
Gift – two T-shirts and a hat with our logo LuckyFit
Accommodation – independent studio with full noise insulation, equipped kitchen, satellite TV, telephone, free wireless internet connection, mini-safe, mini-bar, bathroom with a bathtub, bathrobes and cosmetics.