Diet plan for weight loss without
a strict restrictive diet
МThe menu of the LuckyFit REDUCTION program aims an effective weight loss with an significant health effect.
It is based on the Mediterranian diet (MD), which has proven its slimming and healthy effect in a large number of chronic cardiovascular and metabolic, widespread in Bulgaria.
SMC is suitable for use in all degrees of overweight and obesity.
There are additional accents in the prepared diet plan, which contribute to losing more body weight:
A. Use of carbohydrates with medium and low glycemic index
This allows you to maintain a healthy blood sugar level, which in turn allows increased use of your own fats.
B. Limited consumption of foods that cause retention of body fluids.
At the beginning of the program (the first 96 hours) the consumption of certain foods is avoided and the use of salt is limited.
The goal is to reduce fluid retention as it prevents weight loss.
C. Increased consumption of plant foods containing enzymes responsible for better absorption of various macro- and micronutrients
Supporting the digestive process is important for people who aim to lose weight.
With proper digestion of food, the micronutrients contained in it are involved in the proper functioning of metabolic processes in the body.
D. Calorie restriction– a menu of 1 250 kcal or 1 650 kcal
Achieving a calorie deficit ensures the use of your own fats.


LuckyFit program LuckyFit program offers a choice of balanced menu but with different calorific value, depending on the quantity of food: menu with 1 250 kcal and menu with 1 650 kcal
WE RECOMMEND:
The menu with 1 250 kcal is recommended if the body mass index is under 26 to achieve:
better effect of the program
light diet targeting for complete body detoxification
The menu with 1 650 kcal is recommended if the body mass index is over 30 to achieve:
a slower weight reduction
reducing caloric intake and the participation in the program is longer
We advise you to make the choice in advance, when you make the reservation.
The aim of our programme is permanent weight loss through food amount reduction but without starvation and deficiency of essential nutrients.
The effect of the programme, which starts with 1 or 2 weeks at LuckyFit, results in important health outcomes such as lower risk for heart connected and oncology diseases. Moreover, headaches and problems with the digestive system are eliminated too, and your energy levels are much higher.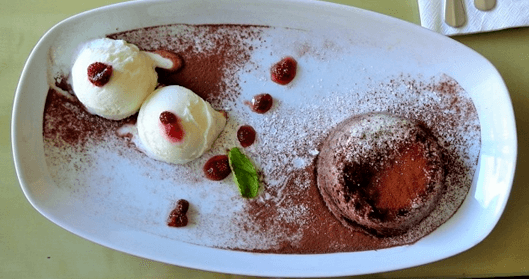 The qualities of
the nutrient plan at LuckyFit are:
All meals are prepared with organic products, most of which are bought from the local region- a UNESCO Heritage Site
All fruits and vegetables are ozonated before use by soaking them for 2 hours in water beforehand. And legumes are soaked in water for 24 hours. This treatment of food produces removes the toxins, pesticides, heavy metals and other polluters from them.
We can accommodate any special dietary requirements- vegetarians, vegans, allergies, etc.
You won't feel as hungry and we hope you don't get confused with an increased appetite
We provide fresh and energized water throughout the day
Make your reservation